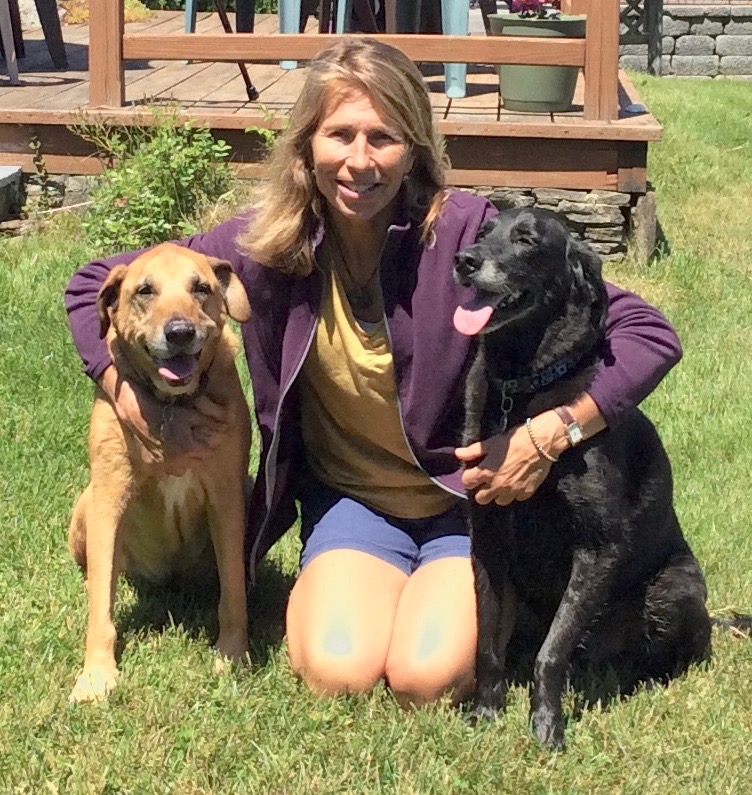 Ruby and Jet – Silver Paw's Inspiration
Living life in the Maine woods and mountains as a jeweler has taught me a lot.  I adorned my dogs with various handmade charms and creations over the years and thought I knew all there was to know about metals. What I thought were durable charms became easily mangled by our Maine woods adventures and I got to thinking.
In 2008, after 18 years of making jewelry for the likes of QVC, the League of NH Craftsmen, and various retail galleries, I felt the need to reinvent myself. The economy had tanked, gold and silver skyrocketed, and my wheels got turning.
I'd had trouble keeping metal from wearing out around my dog's neck, maybe other people did too. I searched but found no durable pet tags made in the USA. So, I got to work making prototypes of tags and searching for ways to manufacture them.
In 2010, I stumbled on a local foundry willing to cast my designs reasonably. They called me their "canary in a coal mine" because they'd never done a project like mine and wouldn't ever again if it didn't work out.
I cashed in 11 lbs of silver scrap at $40 an ounce and by the seat of my pants, purchased my first engraving machine. Without any idea of how to work it, I signed up for a show to sell my first tags. I spent most of that show on the floor behind my booth trying to figure out how to work the machine while customers wondered where I had disappeared to. My husband still shakes his head.
Since then there have been many more moments of hysteria and uncertainty but there has always been a light at the end of the tunnel. Growing a business is like that.
Following my dream to make the finest looking, most durable pet id tags out there still drives me forward and I feel fortunate to be doing it in Maine!
About Silver Paw Pet Tags Made in Maine USA
I work in my studio/barn in Brownfield, ME where I still make jewelry "in the middle of nowhere". Most of my work is dog and horse inspired, although sometimes it's neither. I'm obsessive about quality, craftsmanship, and materials as well as customer service. My passion for dogs, horses, and snowflakes is evident and unmistakable.
My jewelry can be purchased online at www.etsy.com/shop/flakeyfarmgirl

About Silver Paw Pet Tags Made in Maine USA