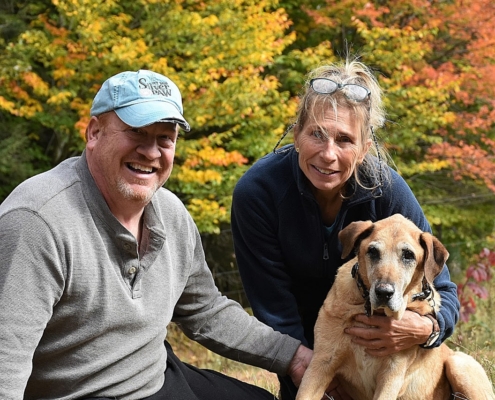 Living life in the Maine woods and mountains with dogs has taught me a lot.  As a jeweler, I've readily adorned my dogs with handmade charms and creations over the years, thinking they'd proudly strut these unique baubles forever. When, after a few short months, my labor intensive bling was hanging by a thread, I got to thinking.
In 2008, after 18 years of making jewelry for the likes of QVC, the League of NH Craftsmen, and various retail galleries, I found my livelihood threatened. The economy had tanked, gold and silver skyrocketed, and I needed a new direction.
At Christmas, I created some prototype dog tags for friends modeled after one of my jewelry designs. They were a hit. Inspired, I set about finding the right metal and process to manufacture. With most of the manufacturing in this country having moved to China, this was no easy task and it took awhile.
In 2010, I stumbled on a local foundry willing to cast my designs reasonably. They called me their "canary in a coal mine" because they'd never done a project like mine and wouldn't ever again if it didn't work out. They introduced me to an entirely new type of stainless steel that had super durability and I was hooked, despite the high cost of this very labor intensive process.
I cashed in 11 lbs of silver scrap at $40 an ounce and by the seat of my pants, ordered molds made of my prototypes and purchased my first engraving machine. That was eleven years ago.
Following my dream to make the finest looking, most durable pet id tags out there drives me forward right along with offering people an honest, geniune, and kind customer experience. I feel fortunate to be doing it in Maine!
I work in my studio/barn in Brownfield, ME where I still make jewelry "in the middle of nowhere". I'm obsessive about quality, craftsmanship, and materials as well as customer service. I guess my passion for dogs, horses, and snowflakes is unmistakable.
My jewelry can be purchased online at www.etsy.com/shop/flakeyfarmgirl

About Silver Paw Pet Tags Made in Maine USA