Durable Pet ID Tag Metals
Stainless Steel: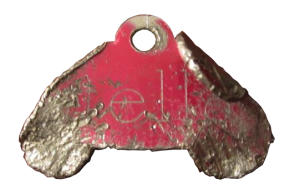 Our Stainless Steel/ Durable Pet ID Tag Material
If you are searching for a durable pet id tag, read on. Our stainless steel tags are particularly thick (3mm or 1/8″) and will withstand ANYTHING your pet can dish out. We use a special yacht grade of stainless steel called duplex 2205 which is 100% corrosion proof and twice as durable as ALL other stainless alloys including 316, etc. It was developed in the 1960's for the off shore oil drilling business and is chew proof, bend proof, and even scratch resistant.
Our durable stainless steel pet id tags will not rust, turn black, or discolor your pet's coat, even in salt water! They won't wear through at the loop, fall off, shrivel at the edges, or become disfigured.
We proudly handcraft with great attention to detail in good old Maine, USA.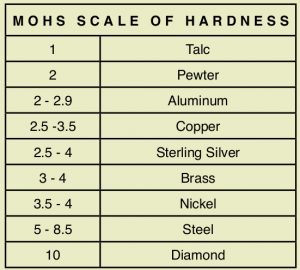 Tag Materials Today
Well designed, durable pet id tags are sorely missing on the market today. Pet id tags made out of PEWTER, COPPER, NICKEL, ALUMINUM, STERLING SILVER, and most BRASSES will not hold up to an active pet's lifestyle because they are extremely SOFT. Soft metals will not hold their engraving. You can spend a lot of money on very cute artisan created id tags. Your dog will typically lose them because the hole in the tag wears through. You may not even notice how deteriorated your tag has become until after your pet goes missing with an unreadable or missing tag.
Durable pet id tags are extremely hard to find. Thick and durable pet id tags made in this country, are impossible to find. We pride ourselves in offering the most durable pet id tag out there with a lifetime guarantee that exceeds any other in the business.
Change of address or any problem whatsoever with your engraving? We take the tag back, regrind, polish, and engrave it all over again! Try finding that service anywhere else… WE are 100% committed to our tags and our customers.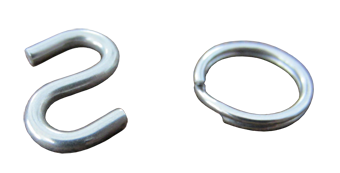 Durable Pet ID Tag Attachment Hardware
We include both a 316 grade stainless steel split ring and 3/4″ S-hook for a durable pet id tag collar attachment.
The stainless steel split ring is easiest to attach but not the most durable of the two. If it catches on something while being worn, it may pull open and your durable pet id tag will not be so durable anymore!
The stainless steel 3/4″ S-hook is thick, more durable, and harder to put on. However, it will not stretch open like the split ring. You will need a strong pair of hands and pliers to attach the S-hook. Our durable pet id tags need durable attachment hardware too!