Returns Policy & Procedure

If we make a mistake on the custom engraving information you provided to us, you must send the tag back to us asap and we will refund your purchase price upon receipt of the incorrectly engraved tag. We will issue you a newly engraved tag within 24 hours of your contacting us.
If you make a mistake on the engraving information you provided us and the tag is incorrectly engraved as a result, we will not be able to issue a refund.
You have the option of returning the tag to us for correction. There is a $15 charge for regrinding, polishing, and engraving the old tag.
If you need to return an item, please call or email us to explain the issue.  We'll try and work with you. Once we receive your tag, we'll keep you in the loop of what's happening via email.
Mailing Tags Back To Us
Please send ONLY your tag back in a SECURE envelope. If the tag is sent loose in a letter size envelope, it will rip through the envelope and be lost in shipping. We recommend taping just the tag (keep the pouch and hardware) to the brochure card you received and then putting it in a letter size envelope for minimal postage.
Mail to: Karen Twombly
72 Porter Rd
Brownfield, ME 04010
Please include:
order number
your name
return shipping information
new engraving information
email information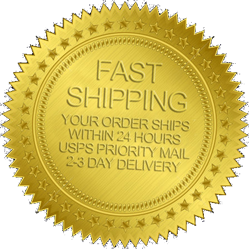 Shipping 
All orders are shipped within 72 hours of the order receipt Monday – Friday
Weekend orders will be processed on the following Monday.
Domestic Orders
$7.45 – USPS First Class Mail w/tracking available on orders under $70.
$11.40 – USPS Priority Mail w/tracking available on all orders. 1-3 days.
We are happy to accommodate whatever shipping needs you might have. If you have a need for a shipping method other than what is listed here, please contact us directly!
International Order – Canada Only
$38.00 – USPS Priority Mail to Canada Only. 5-10 business days for delivery. Includes insurance and tracking.
$18.00 – USPS First Class Mail to Canada Only. No insurance/ tracking available. If items disappear in shipping, we are not responsible and items will not be replaced.