Pet Tag Attachment Hardware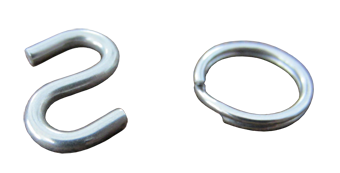 The pet tag attachment hardware you use to attach your pet tag is just as important as the tag itself if not more so. We provide two types of stainless steel attachment hardware with every tag. You don't want to spend money for a tag that gets lost! Our lifetime guarantee does not cover lost tags!
Dogs that are less active and more sedentary may opt to use the traditional pet tag attachment style hardware of a stainless steel split ring (keyring style) which is the easiest style to get on and off. It is NOT a good choice for active dogs or dogs that lose their tags frequently because it stretches open too easily when it snags on something.
The second type of hardware is a stainless steel "s-hook" which is hard to get on but very secure. If your dog is active, you should definitely use only this type of collar attachment. Our s-hooks are thicker and stronger than what most tags on the market are sold with.
Pet Tag Attachment Hardware