Brownfield Jeweler Goes To The Dogs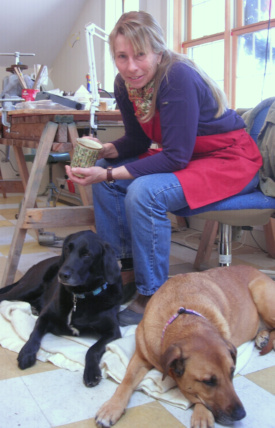 Brownfield jeweler, Karen Twombly, isn't giving up. With 19 years of business under her belt and gold and silver prices through the roof, Twombly, is reinventing herself. " I've had plenty of time, sitting at shows, to ponder the fate of jewelry in a less than thriving economy." Spurred on by her trusty canine companions, Ruby and Jet, her new business, Silver Paw Pet Tags, will debut Twombly's stainless steel ID Tags at Fryeburg Fair this year.
Proud of her made in Maine product, Twombly's tags address a niche market need. "There really aren't many Pet ID Tag companies making really durable, attractively designed id tags. They're mostly just plain, boring blanks of metal, stamped out in China, too soft to hold up to the abrasion they receive."
Twombly tried other metals but heralds stainless steel as the only material worthy of her tags and points out its benefits as well as its draw backs. "I'm just lucky to have access to a foundry in Hiram, Maine. I searched and searched, then couldn't believe they were there right in my own backyard!" Stainless is the hardest, strongest, and most non-corrosive metal there is according toTwombly. "Wonderful for tags!", she notes, " but a really tough surface to finish well and engrave. You need lots of finishing grits and a strong machine to rout out lines for engraving. It's not enough to just displace the metal."
With silver prices at $40 an ounce, Twombly purchased a computerized rotary engraving machine with the proceeds from an accumulated 18 pounds of sterling silver scrap. "I couldn't believe my eyes when I weighed out my scrap. I paid $4 an ounce once upon a time. The public doesn't get it when I pass the cost of silver on in my work these days. We're competing with silver work outside the country, and it's impossible to survive on that." Ironically, it's high silver prices that have enabled Twombly to purchase new equipment to start up Silver Paw.
Twomby's tags first retailed in May of 2011. Thanks to her website, www.silverpawtags.com, demand is growing. Fryeburg Fair marks the introduction of small pet tags and equine tags to her existing large tag line. She's excited, "Everyone has been anxiously awaiting the small tags. Can't forget about the little guys!"
No stranger to the business of metals, Twombly began her jewelry business in 1992 under the name "Metalscapes". She is a juried League of New Hampshire member most noted for her Snowflake Collection and award winning Snowflake Ornaments. Her work has been featured by QVC, LL Bean, various catalogs, retail stores, and can be viewed online at http://www.etsy.com/flakeyfarmgirl/. Here in the valley, she has designed fundraising ornaments and jewelry for Starting Point, The Children's Museum, and The Shooting Star Foundation.
Brownfield Jeweler Goes To The Dogs
/wp-content/uploads/2016/08/silverpaws-logo.jpg
0
0
Karen
/wp-content/uploads/2016/08/silverpaws-logo.jpg
Karen
2016-09-02 08:00:30
2017-05-04 21:03:37
Brownfield Jeweler Goes To The Dogs