Silver Paw Tags/ Sticker Shock!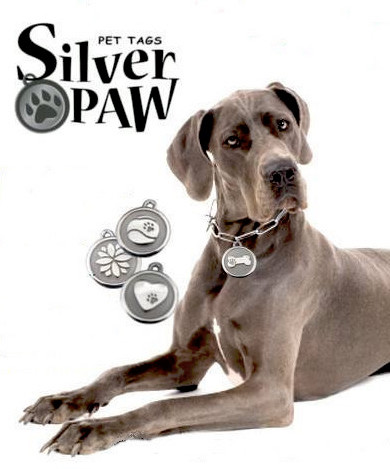 "Now, $30 for just a tag can be a bit hard to swallow, but they are 100% worth it," wrote one of our customers several years ago. "The amount I was spending on each supposedly "durable" id tag at the pet store was easily munched and mangled, so I figured why not get a GOOD tag?".
The dilemma of whether to trust the quality of a $30 tag versus a $15 tag is a legitimate one. Do you always get what you pay for? Customer reviews can be very helpful but so can learning about what goes into the making of that product.
Silver Paw Tags are the gold standard of the hanging pet tag market for several reasons.
-they are made of the finest stainless steel alloy available
-they are very thick with heavy loops
-they have deep, black engraving
-the fronts have jewelry-like designs embedded into the steel
-they can be engraved over again if phone #s or addresses change
-they are backed by a lifetime guarantee with kind customer service
Purchasing an id tag for the life of your dog and then being able to use that tag as a remembrance of your beloved pal on a key chain, necklace, or bracelet is what Silver Paw tags are designed to do. The metal is so impervious to scratches, dings, tarnishing, or corrosion, that you will want to wear it.
Does this quality come at a price? Of course. The extreme labor involved in creating molds, casting, hand finishing, and fiber laser engraving each tag right here in the USA is extremely costly. https://www.youtube.com/watch?v=ZL749nUsgQQhttps://www.youtube.com/watch?v=9svX8GbHYTM  Skilled labor in this country is compensated in a different way than in China and rightly so. Any product made in this country that is labor intensive and handmade by skilled artisans is going to cost more. Silver Paw believes that keeping production in the USA benefits our workforce and encourages quality.
In the pursuit of "deals", good "old fashioned" quality has fallen by the wayside in so much or our society that we have come to expect products to fall apart. We have understandably become naturally suspicious of the word "quality". . .
If you google stainless steel jewelry for people, you'll find nothing much available for under $30 and that "quality" $29.95 jewelry is made in China. US manufacturers can't compete with Chinese labor and we all want "deals". What does that say about an extremely rugged and well finished pet id tag, several times the weight of a piece of chinese made jewelry, that has several lines of custom engraving, won't fall apart, and is made in Maine?
Sticker shock over Silver Paw id tags can be remedied if one thinks about buying a lasting piece of not only "beautiful" but "highly functional" quality jewelry. Jewelry that can also save the life of your dog for the life of your dog! Our dogs are so devoted and have given us so much pleasure and love as beloved members of our family. Of all the crazy things pet owners purchase over the life of their dog, how can one resist the expense of a good quality pet id tag such as Silver Paw's?
/wp-content/uploads/2016/08/silverpaws-logo.jpg
0
0
Karen
/wp-content/uploads/2016/08/silverpaws-logo.jpg
Karen
2017-04-27 10:39:22
2017-05-04 21:01:40
Silver Paw Tags/ Sticker Shock!