EZ – Change ID Clip Pet Tags
$6.50
Silver Paw has looked high and low to find a tag clip that doesn't fall apart. It has not been an easy task! No one wants to loose a tag over a faulty clip. Most clip mechanisms do fail. We've sold several brands over the years and are very pleased to find this EZ Change ID […]
Description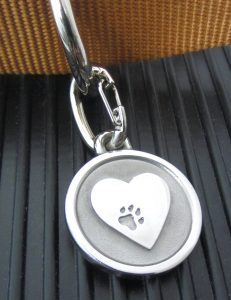 Silver Paw has looked high and low to find a tag clip that doesn't fall apart. It has not been an easy task! No one wants to loose a tag over a faulty clip. Most clip mechanisms do fail. We've sold several brands over the years and are very pleased to find this EZ Change ID Clip to be the most reliable clip yet. That said, they can fail if your dog is very active.
The EZ Change ID Clip is just the right size to hook directly through the bail (loop) of our Silver Paw pet tags. The loop itself is thick and plated with nickel just the same as the d-ring on your collar. The entire clip is 7/8″ long and 5/8″ wide. This size is perfect for people who don't want their dog's tag to hang down too low on their dog's chest. Small dogs under 15 lbs can have a particular issue with larger clips.
Spring Mechanism
The EZ Change ID Clip spring mechanism itself is tight and well attached into the loop. The top of the clip mechanism nestles into a small curved hook for added protection. The whole unit is nice and light weight yet durable enough to do its job.
There are so many different carabiner type clips out there on the market. Small carabiner type clips suitable for pet tags are hard to find. When you do find one, there is very often a problem with the clip spring mechanism becoming dislodged from the carabiner. Sometimes they just loose their spring and become weak. Unfortunately there is no way to tell when this might happen and the result is not good! No one wants to loose their dog's tag, especially a Silver Paw tag!
We think you will be very satisfied with this EZ Change ID Clip and as an added bonus, each packet contains two clips!,
Warning: If your dog is very active we recommend you steer clear of clips.
Small Pet Tag Silencer


Stainless Steel Pet ID Tag-Small Squirrel